About Us

With an inherent passion for perfection and craze for success, we were established in the year 1984 to manufacture economical and reliable machine tools and industrial components. Today, after more than two decades of rich experience, S.R. Engineering Corporation has established itself as a highly reputed manufacturer, exporter, importer, trader, supplier, and distributor of an extensive range of CNC Machine Components (Ferrous and Non Ferrous), Industrial Supplies and Automotive Parts and Aluminium Precision Components. In addition, we are also a service provider of Machining Services and Casting Services. Through our innovative ideas and technical expertise, we have proclaimed a new dawn in design and development of all these products, and offer new levels of excellence to our clients spread all over the country and overseas.

Besides novelty, innovation and technical expertise, we are also well known in the industry for our strict adherence to quality. We never compromise with the quality of our products and always try to incorporate the latest technologies so that we can avail you the best products in the industry. In addition, we also offer our customers highly reliable after sales service, customized products, and efficient product delivery. Thus, we leave no stone unturned to achieve complete customer satisfaction. This dedication and customer centric approach prove to be the reason behind the peerless success of S.R. Engineering Corporation.
return false;" href="#">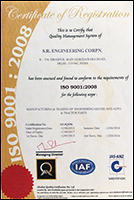 OUR VISION

To attain sustainable growth and achieve a leading position in the field of Aluminum casting and related services.


OUR MISSION

To achieve total customer satisfaction through relentless efforts and a work culture driven by passion, integrity, fair team play and an innovative spirit.



S. R. ENGINEERING CORPORATION
One stop shop for your casting & Machining needs
Regd. Office: 3895, Mori Gate, Delhi - 110006, India
Phone :91-11-23976954
Mr. Sajan Jain
Mobile :+919911115682, +919810145745
Mr. Tushar Jain
Mobile :+919711000048, +919811000048
Mr. Akshat Jain
Mobile :+919911000048, +919911227995